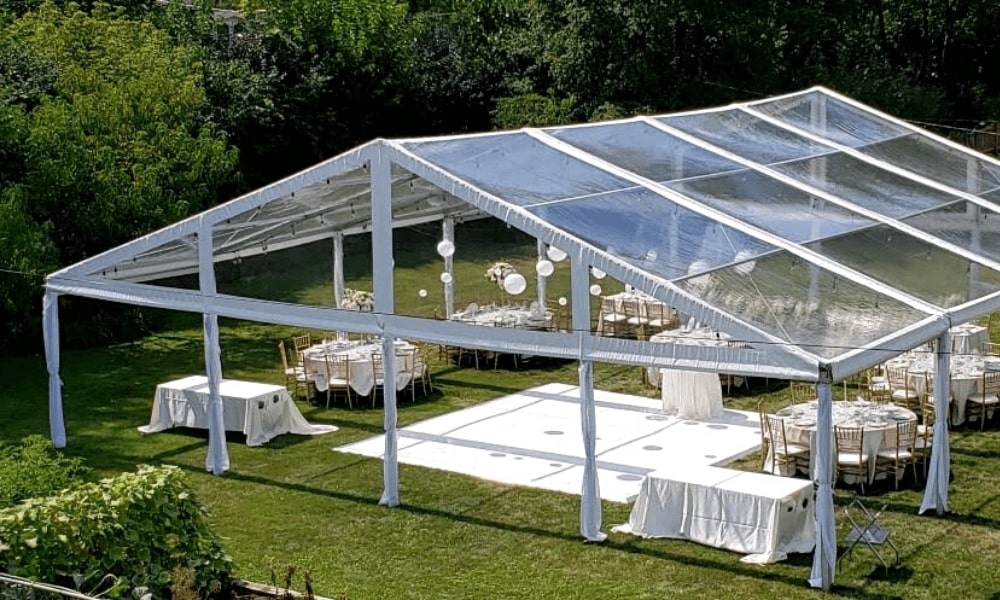 How to Choose the Venue for your Next Tented Event
When planning an outdoor event, you can be confronted with many choices. Selecting a venue is probably the most important decision that you will have to make when preparing for your outdoor event. 
If you are planning an outdoor event, you may have also chosen to rent tents for it in case of poor weather. Assuming that this is the case, you'll need to consider a few things when selecting your outdoor venue. Here are a few things you should do when choosing the venue for your next tented and outdoor event.
Start looking early
First off, you'll want to make sure you plan ahead and give yourself enough time to find a venue. Venues generally get booked months or years in advance of events, both large and small. Therefore, it is a good idea to start researching outdoor venues in advance so you can find the perfect one to fit your needs.
Consider location
Next up, make sure to consider the location of your event when selecting a venue. The venue should be close to where your guests live or work. Another thing to think about is whether or not your guests will be traveling to your event from far away. If guests are traveling a long distance to get to your event, then you'll want to consider renting a venue near airports or hotels. 
Research parking options
One thing that is often overlooked when planning events is whether or not the venue has a parking lot. If you are planning a large event, you need to make sure that the venue has a large enough parking lot. Or, you could also ask the venue whether they offer valet parking for guests to give them a special experience. 
Examine the surrounding area
The surrounding area of your outdoor venue can help create a beautiful atmosphere and ambiance at your event. For example, if you have a wedding ceremony in a wooded area, it can create a peaceful and private atmosphere. On the other hand, if you are hosting a corporate event, an area surrounded by meticulously landscaped gardens could create an upscale and luxurious atmosphere. Whatever type of event you are planning, make sure to tour the surrounding area to see what is around your venue.
Determine the flexibility of the event date
Oftentimes, you can save money by booking a venue for an event on a day that isn't on a weekend or a holiday. Dates during the week are usually less sought after and can sometimes be cheaper than on the weekends. Ask event venues about any open dates on their calendar to see if they offer any discounted prices.
Booking your outdoor venue
As you can see, there's a lot to think about when selecting your event's outdoor venue. If you follow these steps and tips, you'll hopefully be able to find the ideal venue for your next outdoor event. 
If you are thinking about renting tents for your outdoor event, consider renting them from Joliet Tent. Joliet Tent can help you decide which type of tent will best suit your event's atmosphere and needs. 
Ready to begin planning your outdoor event? Contact us to learn more.