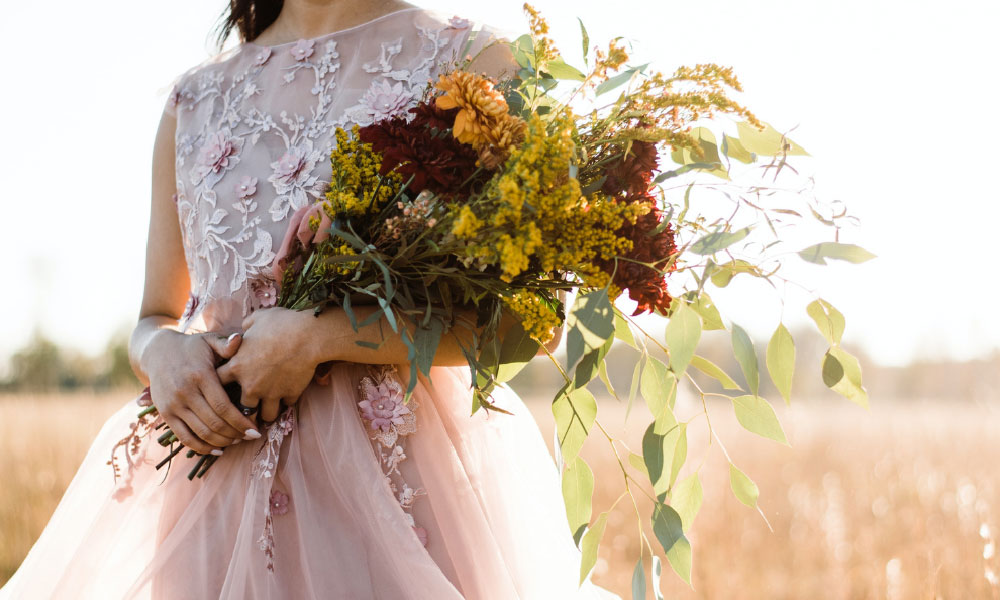 5 Trendy Ideas for Fall Weddings
If you're currently engaged, with an upcoming fall wedding, then you've probably been busy trying to find the perfect venue—one of the most important parts of wedding planning. Many couples are choosing to host outdoor weddings this fall and next, especially since it is easier for guests to social distance outdoors. 
Planning an outdoor wedding during the fall season can be stressful, especially since you probably want to make sure that you select the right details to make your wedding elegant and tasteful. It's vital to make a positive impression by selecting the right features for your fall wedding. Here's a list of 5 trendy ideas you could incorporate into your autumn wedding.
Use jewel tones
Jewel tones are deeply saturated hues, such as emerald green and ruby red, that add a bold statement to any event. Jewel tones are especially perfect during the fall season, when rich colors are more traditional. Fill your fall wedding with jewel tones—you can include them in your table linens or even flower arrangements.
Dish out pie for dessert
Nothing says fall better than a slice of pie, and even more so if it is apple or pumpkin pie. Of course, you could serve another type of pie, such as berry or peach, depending on what your favorite kind of pie is. Serving pie at your wedding will bring instantaneous fall vibes to the menu.
Rent an elegant tent
Tents not only provide guests with protection from the elements, but also contribute to the aesthetics of a wedding, creating a sweeping, beautiful canopy over guests. There are a variety of tents to choose from, including sailcloth tents, clear top tents, and Century Pole Tents. Sailcloth tents provide a natural, authentic, and intimate vibe. The tent fabric is made out of lightweight canvas material that is translucent, allowing light to filter through. Clear top tents allow light to filter in through a sheer top. The translucent, luminous tent fabric glows throughout the day and radiates light at night. Century Pole Tents defy gravity with their smooth, flowing peaks. These aerodynamic tents feature impeccable strength, durability, and design magnificence. The high peaks and graceful curves are perfect for a wedding. Joliet Tent can help you decide which type of tent will best suit your wedding's atmosphere and needs.
Serve fall-inspired drinks
One of the key elements of any wedding are the drinks. Seasonal drinks such as apple cider, hot chocolate, or hot toddies welcome fall vibes to your wedding and are fun for people to drink. You could even create a signature hot toddy to serve to guests, complete with the recipe on display so they can recreate the drink at home.
Decorate with seasonal fruit
Since fall is a time for apple and pumpkin picking, you could choose to decorate your fall wedding with seasonal fruit. Get creative with mini pumpkins by using them as place holders for seating cards. Or, give out freshly picked, local apples as favors. If you want to use a more unique fruit, consider decorating with pomegranates, which are also ripe during the fall season.
Enjoying your special day
After you've finished planning your fall outdoor wedding, you'll be ready for a memorable, special day. It will be a day in which you will make memories that will last a lifetime—and you'll be surrounded by a beautiful, elegant atmosphere. Your wedding will be a wonderful celebration and you'll have a happy, love-filled day.
Ready to begin planning your fall outdoor wedding? Contact us to learn more.