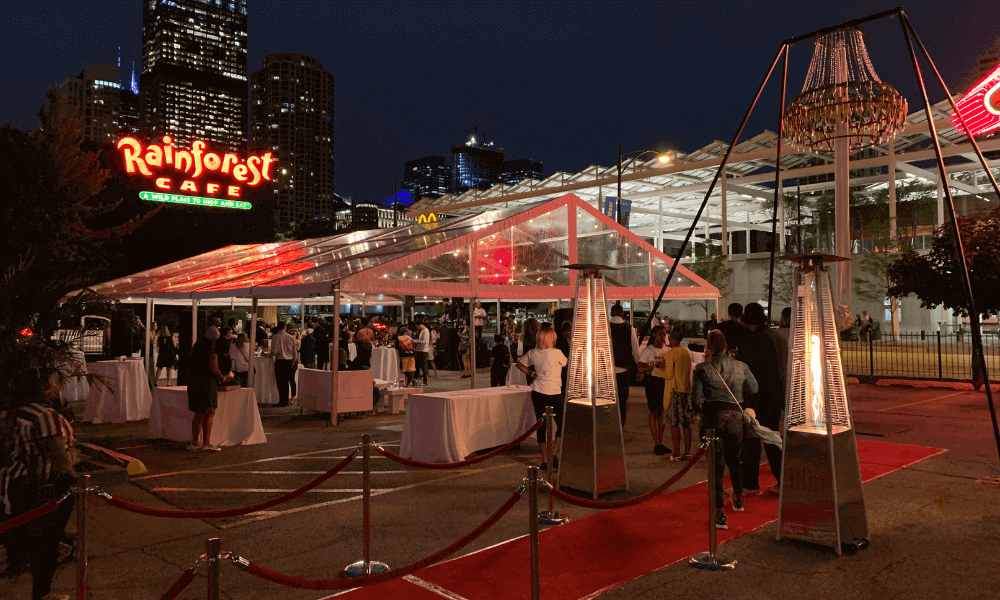 6 Ideas for Outdoor Corporate Events
Businesses all over are now beginning to host in-person events again, especially since coworkers are eager to see each other and employers are looking to create a friendly atmosphere for their employees. There are many simple and easy ways to host a fun and exciting event for your employees. Hosting the event outdoors can provide an even more fun environment for your guests. We've compiled a list of a few ideas that you can use when planning your company's next outdoor corporate event.
Play fun team building games
Since you probably want your event attendees to have fun and bond, planning team building activities for your employees is a great idea. Some games you could play include Two Truths and a Lie, Never Have I Ever, or other icebreaker activities. Games provide a great way for employees to get to know each other better, as well as get conversations started.
Encourage socializing with an open layout
Outdoor events provide more space for guests to move around. When you choose to have an outdoor event, you'll be able to easily spread out your guests' seating, and you'll be able to be creative with the seating layout if needed. Consider different types of tables for seating at your event, including larger round tables and banquet tables. Providing enough space for guests at your event will allow them to be able to socialize easily with others and enjoy the event.
Provide live music
One way to put employees at ease at your corporate event is by providing live music. You could hire a band, musician, singer, or DJ to play music. It's a great way to liven the atmosphere at your event, and guests will enjoy singing (or dancing) to the music.
Rent a weather-proof tent
If you are planning an outdoor corporate event, you should definitely consider renting a tent to weather-proof your event. There are a variety of tents that you could consider renting, including century pole tents, sailcloth tents, clear-top tents, high peak frame tents, and regular frame tents. All of these kinds of tents provide shelter for event attendees in case of bad weather like rain. You can also rent tent sidewalls and doors to further protect guests from potentially bad weather. Guests will feel that they are protected from the elements while also still enjoying your event's atmosphere underneath a tent. Consider renting tents from Joliet Tent, Chicago's premier tent rental company. Joliet Tent supplies tents for all types of events to ensure a successful and weather-proof gathering.
Give an interesting party favor
Everybody likes free stuff, especially if it is a party favor. Give your employees something to take home with them, so they can remember the event and feel the company's appreciation for them. Favors could be potted plants, personalized mugs or tumblers, candles, candy, cheese cutting boards, coaster sets, or wine bottle openers.
Serve delicious food
One of the most important factors of any type of event is the food. People will expect to be fed and you'll definitely want to meet their expectations and leave them with a full belly after the event. You can choose to serve food plated or buffet style at your event. There are pros and cons to both—when you choose to serve food plated, your guests won't need to congregate around a buffet table. Plated service can be beneficial because everyone at the table gets their food at the same time. Buffets are nice because they allow guests to select their own amounts of food and what kinds of food they want. With either option your event attendees will leave feeling satisfied. 
Ready to host your event
After following these steps, you'll be ready for your outdoor corporate event. You'll be able to bond with your employees and show your appreciation for them—plus everyone will be able to have fun and socialize. Your corporate event will be a hit and your employees will be able to spend time bonding with one another.
Ready to begin planning your outdoor corporate event? Contact us to learn more.