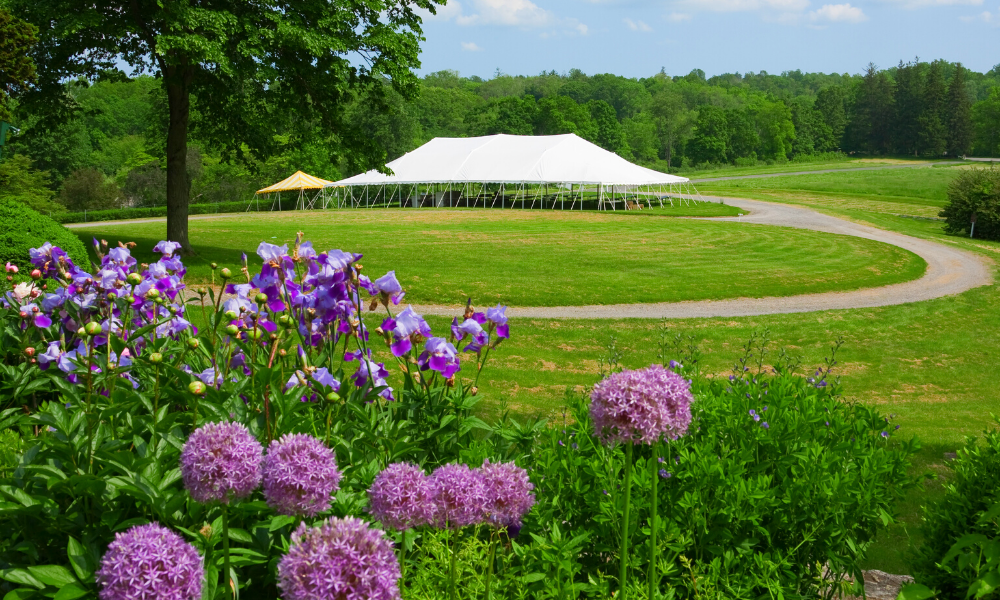 How to Weather-Proof Your Outdoor Event
If you are hosting an outdoor event this upcoming spring or summer, whether it is a wedding, charity fundraiser, corporate event, or festival, you'll want to make sure that you consider the weather. The weather in Illinois in the spring and summer can be volatile, ranging from spring rainstorms to summer thunderstorms. Meticulous planning is needed to make sure your event is prepared for any type of weather. Here are a few steps you can take to weather-proof your next outdoor event.
Rent a tent
When starting to plan your outdoor event, the first step you should take is to rent a tent. There are a variety of tents that you could consider renting, including century pole tents, sailcloth tents, clear-top tents, high peak frame tents, and regular frame tents. All of these kinds of tents provide shelter for event attendees in case of bad weather like rain. You can also rent tent sidewalls and doors to further protect guests from potentially bad weather. Guests will feel that they are protected from the elements while also still enjoying your event's atmosphere underneath a tent. Consider renting tents from Joliet Tent, Chicago's premier tent rental company. Joliet Tent supplies tents for all types of events to ensure a successful and weather-proof gathering.
Use elevated flooring
In addition to renting a tent, you might want to think about renting elevated floors for your event. That way, your guests will have secure flooring to walk on in case the weather turns for the worse. Secure and elevated flooring allows guests to walk on a stable surface in case of rain or flooding, as well as protects them from slipping on the ground. 
Provide heating or cooling
Oftentimes, the weather can cause extreme heat or freezing temperatures. If this happens, your guests will either be freezing or sweating, and won't be able to fully enjoy the event. To protect your guests, make sure to provide them with tent heating and cooling systems to keep them from getting too hot or cold. Some tent rental companies provide these rentals, along with generators and power distribution, and even tent fans. You'll be able to keep your guests and employees warm and comfortable if there is cold and stormy weather in the springtime, or keep them cool and refreshed in the heat and humidity of summer.
Consider food and drink
Since inclement weather can happen at any time, you'll want to consider your food and drink options. If you may experience colder weather, then you might want to serve hot food and drinks like coffee, hot chocolate, or hot entrées. If there is a possibility that there will be hot weather, then serving a heated dish or drink probably won't be as appealing to your guests. In this case, think about serving refreshing, cold drinks like lemonade and fresh drinking water. Serving enough water will be important to make sure that your guests don't get dehydrated during your event if the weather is hot and humid. 
Hosting your event
Whether you are planning an outdoor wedding or hosting a music festival, you won't need to worry about the weather if you follow these tips. Hosting your event will be a breeze, and you'll be prepared for poor weather, whether it be cold and rainy or hot and humid. 
Ready to begin planning your outdoor event? Contact Joliet Tent to learn more.