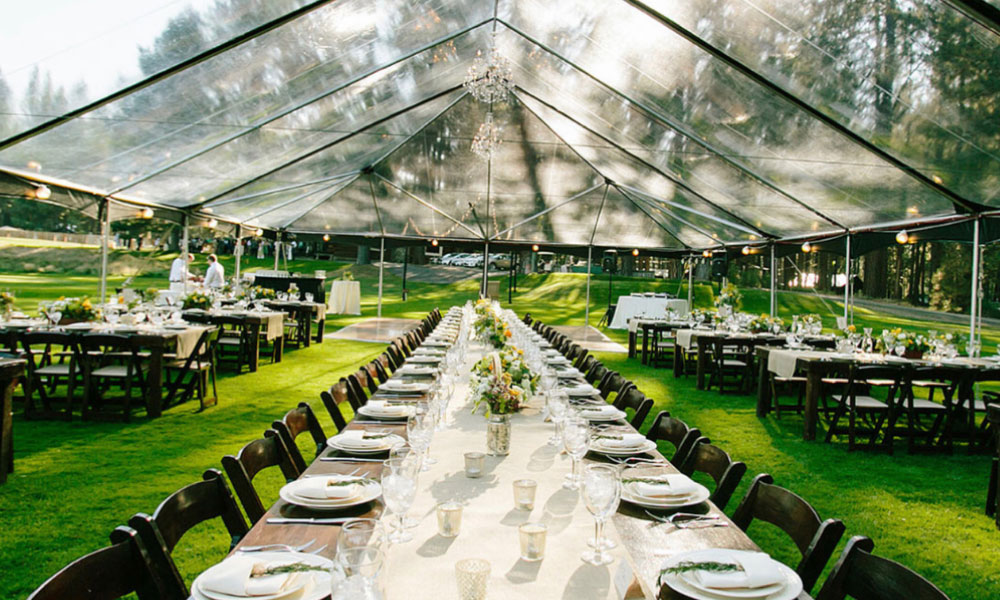 How to Plan a Socially Distanced Wedding
This past year, the worldwide pandemic has paused many brides and grooms' wedding plans. However, an abundance of couples are now planning to host socially distanced weddings in the not-so-distant future. Brides and grooms all over are now opting to host socially distanced weddings, especially since there are even more options available to those who want to host this type of event for their guests. 
While you may feel like it's impossible to have your dream wedding while also keeping guests safe and healthy, there are many simple and easy ways you can still host a beautiful and elegant wedding that encourages guests to stay six feet apart. We've compiled a list of a few tips to help you plan the socially distanced wedding of your dreams.
Keep the guest list small
Keeping your guest list small can help your wedding be less crowded and therefore allow people to more easily spread out. It can often be difficult to narrow down your guest list, especially if you don't want to offend someone. Before you decide who you will invite, consider your venue's capacity. Then, decide on the number of people you will invite. You might want to consider asking guests not to bring a plus one to your wedding as well.
Host an outdoor wedding
Outdoor weddings are now very popular thanks to the CDC's guidance about indoor events posing more of a risk than outdoor events. Outdoor weddings provide a beautiful atmosphere, and you can host one anywhere, from a forested area to a luxury golf course. If you are worried about poor weather, you can rent a tent to provide guests with full coverage. Tents also contribute to the aesthetics of an event, creating a sweeping, beautiful canopy over guests.
Provide enough space for guests
Outdoor weddings provide more space for guests to move around. When you choose to have an outdoor wedding, you'll be able to easily spread out your guests' seating, and you'll be able to be creative with the seating layout if needed. Consider having multiple dance floors or a larger dance floor so that guests can enjoy dancing without worrying about being too close to others. Providing enough space for guests at your wedding will allow them to relax and enjoy the event.
Give out custom face masks
To encourage guests to wear face masks at your wedding, you could give out customized masks as party favors. Consider getting creative with the masks, including giving out themed ones that could be monogrammed, embroidered, or even the wedding colors. That way, the masks will match the theme of your wedding, and guests will be able to stay healthy and safe throughout the event.
Provide hand sanitizer stations
Although hand sanitizer stations may not seem like an obvious choice for a wedding, they can provide guests with peace of mind. Plus, you can dress up a hand sanitizer station with decorations and flowers to make it look stylish. You can even include signs to help encourage people to use the station. 
Use a plated menu
More people are choosing to serve their food plated instead of buffet style at weddings. When you choose to serve food plated, guests won't need to congregate around a buffet table, and you won't need to worry about people sharing serving utensils. Plated service can be beneficial because everyone at the table gets their food at the same time. Additionally, you can spread out toasts and incorporate dances during the courses to keep guests entertained throughout the event. Plated menus take away from the stress of a crowd of people at your wedding and will allow guests to relax while they are served their food.
Enjoying your big day
After following these tips, you'll be ready for your socially distanced, special day.  It will be a day in which you will make memories that will last a lifetime—and you'll be surrounded by a beautiful atmosphere that is safe for your guests. Your wedding will be a wonderful celebration and you'll have a happy, love-filled day.
Ready to begin planning your socially distanced wedding? Contact us to learn more.