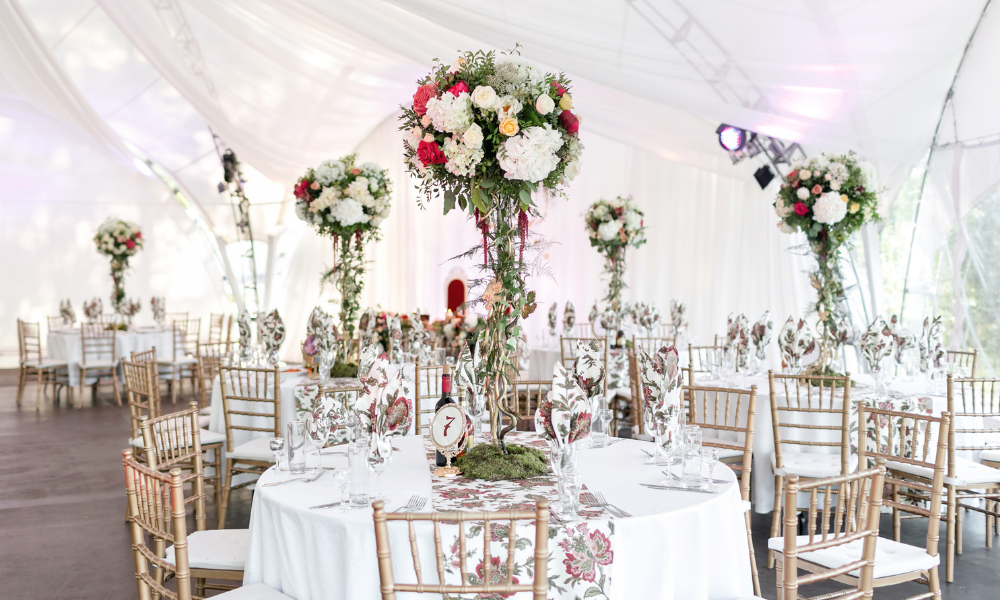 5 Ways to Make Your Outdoor Wedding Elegant
If you're currently engaged, with an upcoming summer or fall wedding, then you've probably been busy trying to find the perfect venue—one of the most important parts of wedding planning. Many couples choose to host outdoor weddings due to the nice weather during these seasons, as well as the fact that it is easier for guests to social distance outdoors. If you are currently planning an outdoor wedding, you've probably been deciding which details will make your wedding elegant and tasteful. It's vital to make a positive impression by selecting the right features for your outdoor wedding. Use this list as a guide to make your outdoor wedding both memorable and beautiful.
Provide detailed table settings
How you set up your tables for wedding guests can make an event unforgettable and unique. Using utensils, glasses, plates, and napkins, make sure each plate setting is set up to perfection. You can use colored cloth napkins to make the setting more fancy, as well as a charger, a type of decorative plate. In addition, consider using name cards to assign seats if necessary. Don't forget to add decorative items to the tables like flowers in vases, candles, or other decorations. You might want to consider renting tables, table cloths, and specialty chairs and chair covers to complete your table settings.
Use creative floral arrangements
Flower arrangements are an excellent way to easily blend a natural element into your outdoor wedding. Traditional flower arrangements include table centerpieces, but recently taller and larger flower centerpieces have become more popular. Other unique arrangements could be a flower archway or wall, which create a beautiful backdrop for guests to take photos in front of. Don't be afraid to decorate your wedding with creative floral arrangements—blooming flowers can add class to any outdoor wedding.
Rent an elegant tent
Tents not only provide guests with protection from the elements, but also contribute to the aesthetics of a wedding, creating a sweeping, beautiful canopy over guests. There are a variety of tents to choose from, including sailcloth tents, clear top tents, and Century Pole Tents. Sailcloth tents provide a natural, authentic, and intimate vibe. The tent fabric is made out of lightweight canvas material that is translucent, allowing light to filter through. Clear top tents allow light to filter in through a sheer top. The translucent, luminous tent fabric glows throughout the day and radiates light at night. Century Pole Tents defy gravity with their smooth, flowing peaks. These aerodynamic tents feature impeccable strength, durability, and design magnificence. The high peaks and graceful curves are perfect for a wedding. Joliet Tent can help you decide which type of tent will best suit your wedding's atmosphere and needs.
Have personalized menus
Allowing guests to order from a personalized menu at your wedding will help them feel like they are eating at an upscale, top-rated restaurant. Plus, with so many people who eat vegan or gluten-free foods now, it's important for menus to have different options for those who have dietary restrictions. Personalized menus will help the people who attend your wedding feel included, even if they have dietary restrictions or food allergies. 
Include delicate lighting
Every wedding needs delicate lighting, whether it be twinkling lights or an extravagant chandelier. When the sun goes down, it helps to have lighting to highlight the best features and decorative elements of your special day. You can use lights to show off signs, table centerpieces, the wedding cake, dance floor, and more. Lighting will help set the mood of your wedding, making it a romantic night to remember forever. Joliet Tent provides lighting design for their tents and will work with you to make your event truly illuminating.
Enjoying your special day
After you've finished planning your outdoor wedding, you'll be ready for a memorable, special day. It will be a day in which you will make memories that will last a lifetime—and you'll be surrounded by a beautiful, elegant atmosphere. Your wedding will be a wonderful celebration and you'll have a happy, love-filled day.
Ready to begin planning your outdoor wedding? Contact us to learn more.