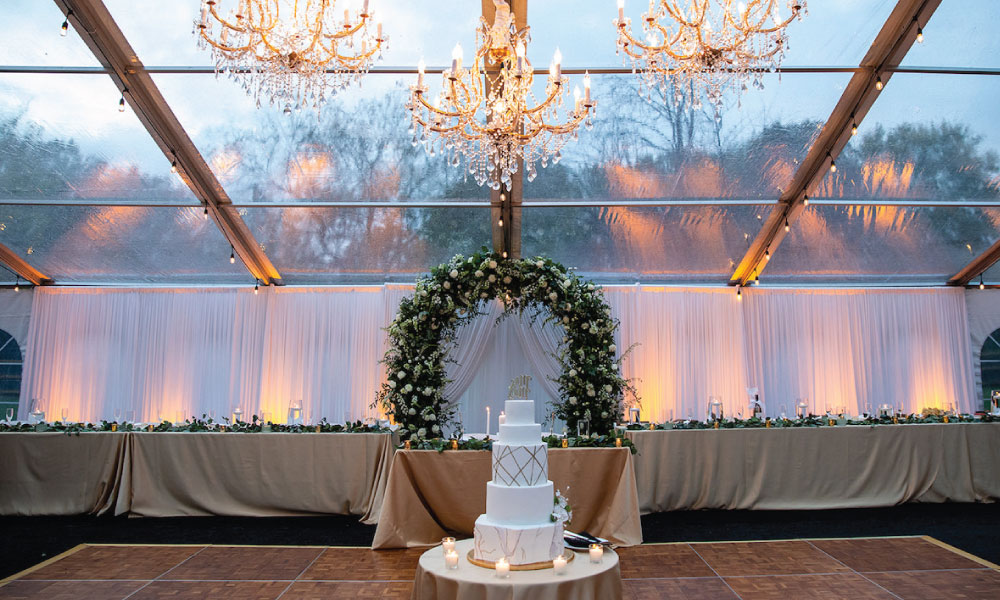 5 Gorgeous and Inspiring Ideas for a Summer Wedding
Planning for a wedding in the summer means considering weather, destination and decor even more carefully. There are so many ways to make an outdoor wedding fabulous – from the venue down to the smallest details – but it can be hard to choose just one theme or focus to maintain. To help you organize your thoughts and consider what summer wedding best suits you, we've compiled a list of some inspiring ideas for your summer wedding.
Creative drinks
A summer wedding means dealing with the heat. One easy way to stay chic while making sure your guests are staying cool is to design creative drinks to offer guests. Refreshments can be simple – like a freshly squeezed juice or other fruity drink. It's just important to keep everyone cool, and fun drinks can do just that without compromising on style. 
Whether you put flowers in your ice buckets for a cool visual or offer refreshing cocktails like margaritas or frozen drinks like frose, there are so many ways to include creative drinks that surprise and excite your guests. Not to mention they're delicious!
Seasonal floral arrangements
Floral arrangements can brighten your set-up and add elegance and style to every detail. Whether it's the chairs at the ceremony, the dinner tables, or near the dance floor, intentional floral arrangements can transform your space into the wedding you've been dreaming of. 
Flowers are so versatile. You can pick and choose your bouquets, combine different types of flowers into a beautiful centerpiece for the guests' tables, and even create a hanging piece that lines flowers above the guests heads. 
Intentional Lighting
Lighting can create ambience at any venue. If you're thinking about hosting your summer wedding outside, hanging string lights can help set the mood for you and your guests. They're practical and beautiful and can be easily and inexpensively set up or taken down.
Another lighting trend for summer weddings is neon signs. They provide a fun and party-like vibe that guests will love. A custom neon sign can display you and your partner's names, or a fun slogan, or anything you might want – and it's a great display to take home after the ceremony! 
Offer Shaded Area
After a long summer day in the sun, guests (and you and your partner!) will be in need of a reprieve. If your ceremony is in direct sunlight, hosting the reception under a shaded area might be a good idea. That way, guests can stay cool and calm and everyone can enjoy the weather without any worry of overheating.
Tents offer an elegant and stylish shaded area perfect for any outdoor summer wedding. At Joliet Tent, you can choose from clear-top, sailcloth and Century Pole tents, depending on your venue and your vision. When you host your wedding in a tent, everyone stays cool, you can customize the set-up even more and there's no need to be fearful of last-minute weather changes.
Curated weather-friendly food
The last thing you want is your guests eating a heavy meal on a warm summer day. There will be plenty of dancing to warm everyone up, but you don't want your guests to overheat because of the dinner you serve. Opting for a lighter, summer dish can help reprieve your guests and your stress.
Fish is a great go-to for warm weather. It's light and filled with vitamins and minerals to keep your guests dancing all night long! Salads, tacos and pasta are other great options for warm summer days. 
Planning your wedding
No matter how you choose to decorate and host your wedding, it's bound to be a special day. Hosting in a tent can offer flexibility and minimize stress by having an everything-in-one option. At Joliet Tent, find your venue, decor, lighting, tables and chairs, all in one place. Simplify your planning process and take everything off your plate.
Ready to begin planning your dream summer wedding? Contact us to learn more.